"Oh My God! Does anyone know how to create a Windows 10 system repair disc? I have searched for such a lot of information about it. But I still have no ideas about how to do that. I admit that I am a computer idiot. I heard that we can create it with USB flash drive. Please tell me more details about how to create system repair disc Windows 10 USB. I need to your help, guys. Thanks in advance."
Why We Need to Create a Windows 10 System Repair Disc?
Windows 10 system offers the option of system recovery to avoid system failure. It helps you to repair the bugs, restore your Windows files, repair your system, restore previous settings and so on. From the "Repair Your Computer Option" on the "Advanced Boot Options" menu, you can find the "System Recovery Option". If your computer system cannot boot normally, you are able to access "System Recovery Option" by booting a Windows installation disk. If you have no Windows system repair disk, there is another option to you, which is to make a system repair disk to boot the computer that has serious problem. After that, you have to start "System Recovery Option" to make Windows 10 computer work normally again.
How to Create Windows 10 System Repair Disc USB?
In the system of Windows 10, you can make use of "Backup and Restore" to create system repair disc by using CD/DVD, but as a matter of fact, more and more users can't find CD/DVD. To be honest, to take advantage of USB is easier than CD/DVD-ROM. Consequently, here we will discuss details about how to create system repair disc in Windows 10 with a small USB flash drive.
Most of Windows 10 users would like to create a system repair disc because there are some bugs in their computer, such as Windows 10 crashes, Windows 10 can't boot or Windows 10 blue/black screen. Thus, here I find a powerful third-party tool – Tenorshare Windows Boot Genius, which is designed to create a bootable repair disc and mainly to fix Windows errors. You can see how to use it as below.
Step 1: Download Windows Boot Genius from THIS HOMEPAGE and then install it to a workable Windows 10 computer. Remember that this program is not free but has a free trial.
Step 2: Open this software and then you can see the main user interface. Just choose the USB flash drive option and click Burn button.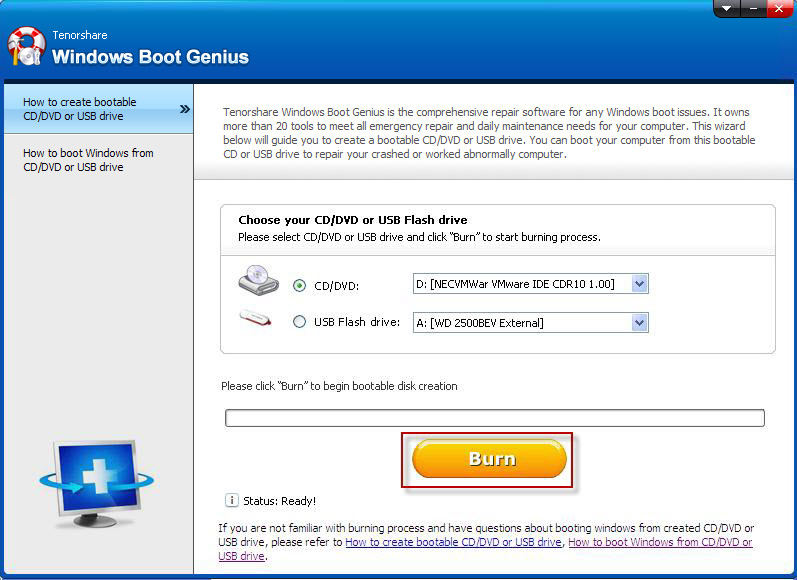 Step 3: Wait for a moment and then you will create the system repair disc in Windows 10 by using the software with USB successfully.