It has been one year since Microsoft releases Windows 10. At the very start, we can upgrade old version Windows to Windows 10 for free, but recently rumors shows that the time we are able to use Windows 10 for free is end. Although there are still no official news from Microsoft, more and more technology media report that. Anyway, there are still lots of users who use Windows 10. And those who use Windows 10 may create login password to it. Among them, some users may lose their login password.
So what to do when we lost Windows 10 login password? This is really a question we need to consider. If you are careful enough, you are able to find out solutions about it. At present, there are so many choices you can use. And here in this article, we will collect the most helpful solutions about Windows 10 password recovery reset and share them as below.
METHOD 1: Get Help from Microsoft Account Center
Some Windows 10 users may use Microsoft account to login Windows 10. In that circumstance, once they lost or forgot Microsoft account password and unable to login computer, they can reset the password at first and then use the new password to login computer.
Step 1: Visit https://account.microsoft.com and then click the "Sign in" button with color blue in the middle of the page.
Step 2: You will enter the page of https://login.live.com/login.srf and then click the "Forgot my password" lick to enter the next page.
Step 3: After that, you can enter the page of https://account.live.com/ResetPassword.aspx and then click the "I forgot my password" option and then click "Next" button.
Step 4: Then you will enter the "Recover your account" page. Just type your Email or phone and confirmation code and then click "Next" button to reset Microsoft Windows 10 account password.
METHOD 2: Use Windows 10 Password Hint
If you have created a password hint for Windows 10 local account., then once you can't remember password and type the incorrect one, the password hint will appear. With the password hint, you can attempt to remind your Windows 10 login password and finally recover it. If this way can't work, try others.
METHOD 3: Use Windows 10 Password Recovery Tool
Windows Password Recovery Tool is a powerful and quite professional program. With this nice software in hand, you can use it to recover password on Windows 10/8.1/8/7/XP/Vista. It is also support all computer brands, such as Dell, Toshiba, ASUS, Acer, HP, Samsung, Lenovo, etc. As long as it is a computer that runs in Windows system, no matter what brand it is, you can always use it to recover login password. It contains Standard, Professional, Enterprise and Ultimate
Now you can see how to use Windows Password Recovery Tool to recover Windows 10 password as below:
Step 1: Download this software from another computer that is able to normally use. Then install it to that computer and launch it.
Step 2: Use a USB flash drive to plug in the computer. And then burn the software to this drive. After that, take the USB to your locked computer and plug in.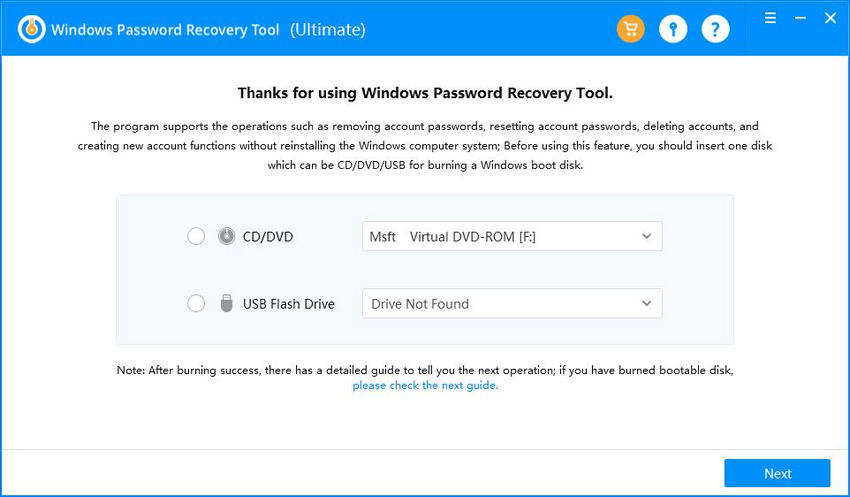 Step 3: Change BIOS setting to boot from your external drive. And then restart it. After that, you will see the main interface of this software.
Step 4: Choose your target Windows 10 account and then remove/reset it. Then exit the software and restart your PC, pull out the USB, then login with the new Windows 10 password.